Trailing Suction Hopper Dredger
UKD Bluefin is a purpose-designed trailing suction hopper dredger with many advanced features.
Special attention has been paid to hull form and dredge-great layout to enable this vessel to dredge in open-sea conditions while maintaining efficiency. She is fitted with twin suction pipes and pumps, jet pumps and de-gassing gear; underwater overflow is via an adjustable weir and she has the ability to discharge via bottom doors or pump ashore. All dredging equipment is by IHC incorporating the latest design features, with fully integrated dredge monitoring and control systems.  Navigation guidance is by DGPS and dedicated onboard survey computer producing continuous precision position information with digital interfaced dredge area details.
Careful ship design in positioning of suction pipes allows this vessel to access close corners without the need for primary soil displacement. The vessel is equipped with VHF, MF and GMDSS communications, twin radar sets, echo sounder, radio tide guage receiver and mobile telephone, e-mail and fax links.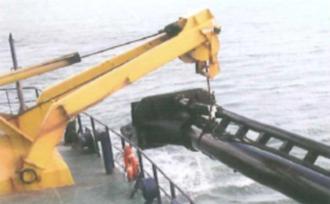 Specifications
| | |
| --- | --- |
| Built | 1997 |
| Builder | Ferguson Shipbuilders |
| Speed | 9.5 knots |
| Classification | BV 13/3E Deep Sea Hopper Dredger |
| Length Overall | 98.0 m |
| Breadth Moulded | 18.0 m |
| Draught Light | 4.2 m |
| Draught Loaded | 6.7 m |
| Suction Pipes | N/A |
| Gross Tonnage | 4171 tonnes |
| Hopper Capacity | 3,900 m3 |
| Max. Dredge Depth | 28.0 m |
| Main Propulsion | 2 x 2,460 kw |
| Dredge Pump | 2 x 600 kw |
| Jet Pump | 2 x 315 kw |
| Bow Thrust | 375 kw |
Please click here for the UKD Bluefin brochure pdf