Grab Hopper Dredger
A self-propelled grab hopper dredger, Cherry Sand has been modernised with a Pulleman grab crane and equipped with a range of buckets to enable dredging in a wide variety of materials.
The hopper well is fitted with a grid to avoid debris being deposited at sea, and discharges via hydraulically operated bottom doors.

The dredging crane is fitted with precise depth-indicating equipment and a computer-controlled safe-working load system to prevent accidental overload conditions.

She is equipped with DGPS and digital mapping which allows accurate dredging to be undertaken.

The vessel is fitted with all usual navigation aids, VHF, MF and mobile telephone, e-mail and fax links.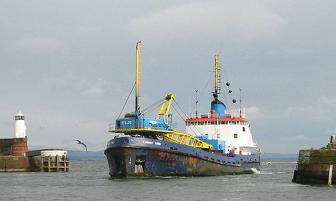 Specifications
Built
1968, modified 1994 & 1999
Builder
Appledore Shipbuilders
Classification
MSA Grab Hopper Dredger
Length Overall
62.5 m
Breadth Moulded
12.04 m
Draught Light
3.4 m
Draught Loaded
4.02 m
Gross Tonnage
1,080 tonnes
Hopper Capacity
765 m3
Max. Dredge Depth
21.0 m
Main Propulsion
2 x 665 kw
Bucket Sizes
3 cu m heavy digging
5 cu m soft digging
Please click here for the Cherry Sand Brochure pdf